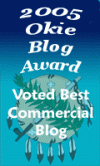 Best Commercial Blog of 2005
What an honor it is for me that Oklahoma Wine News has been named
Best Commercial Blog by the Okie Bloggers
. I am grateful indeed that you have accepted our local winery events news blog, and I want to give sincere thanks to Mike and everyone who participated. The nominations introduced me to a wealth of great blogs and demonstrated the incredibly compelling voices to be found in Oklahoma's blogging community.
Okie bloggers are bringing local public dialogue back to a society that desperately needs to come together. The openness, insight and endurance that you demonstrate is opening up new threads of community to draw us closer together. I feel quite flattered and rather unworthy to be included with such a group of pioneers for the meager news postings of
Oklahoma Wine News
.
I accept the prize with profound gratitude on behalf of another group of struggling Oklahoma pioneers... the humble bunch of family farmers, bright-eyed young couples and world-weary professionals risking their backs and their savings to create a new kind of tourism industry in our state. Like bloggers,
Oklahoma winemakers
and vineyard owners are breaking new ground to shore up the threads that bind us together. Like bloggers they are passionate to work toward their own unique vision rather than another generic franchise. Together they are creating more opportunities to build vibrant local forums, where before there was only faceless global markets.
After contemplation, I conclude that this award, which I receive on behalf of those pioneers, is recognition that community, dialog and collaboration are the solutions to the crucial political and economic obstacles of our time - the need for men to overcome poverty and insecurity without resorting to becoming soulless corporate drones or voiceless laborers. I believe the creativity, energy and innovative spirit of Oklahoma's bloggers, entrepreneurs and winemakers, makes their voices quite worthy being heard.
I wonder what will be the impact of this new tool of blogging for building the spirit of dialog and community. Can the blogosphere become an ever-widening circle, constantly growing to reach further and include more...without our individuality becoming lost in the flood of humanity?
With the ever growing impact of globalization on our lives, jobs and communities, I think that local blogs and local wineries are likely to have a greater role to play reminding us of where we are in the world and reminding the world of what we have to offer as individuals. For me it has been an exciting thing to watch them both being born.
Once again, I am very grateful and very proud to see my name placed together with
the names of so many outstanding Oklahoma bloggers
. Thank you very much.