The bad weather that reduced turnout at the Nuyaka Creek Winery Spring WineFest has resulted in surplus savings for Oklahoma wine lovers! While supplies last, VineByDesign is offering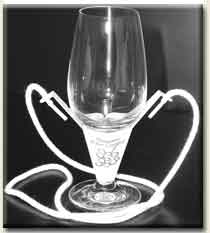 Oklahoma Wine Country Wine Glass Holders
.
I always keep a few around the house for cookouts and wine tasting events.
You will love having your wine glass securely suspended from a lanyard around your neck, leaving both hands free to attack the buffet!
Each one says Oklahoma Wine Country on the front and list a URL on the side that provides links to Oklahoma wineries all over the state.
Grab one today and show your support for the Oklahoma wine industry.
VineByDesign.com - Web Sites for Oklahoma Wineries.